Hot dip galvanized scaffolding jack base for foot leveling of system scaffold pipe &fittings and frames
-ISO9001 & CE certificated Scaffolding Manufacturer
-OD38mm for OD 48.3mm Scaffold Vertical Tube
Hot dip galvanized https://www.wm-scaffold.com/adjustable-screw-jack.html is produced for long durable requirement construction requirement with zinc thickness of 60 micro.
The adjustable screw jack base is a components with leveling spindle function at bottom of system scaffolding, scaffolding pipe, scaffold tube, scaffolding frames.
Size of the adjustable base jack is in OD 38mm with overall height of 800mm. It is used to insert into https://www.wm-scaffold.com/scaffolding-pipes.html.
Jack base handles are in heavy duty type.
Base plate size is 150 x150mmx10mm
More information about technical data, safety load capacity of the jack base at different height, scaffolding adjustable range, scaffolding jack base standard requirement, price, door to door delivery can get fromhttps://www.wm-scaffold.com/contactus.html ISO9001 and CE certificated, 50,000m2 auto to 49 countries.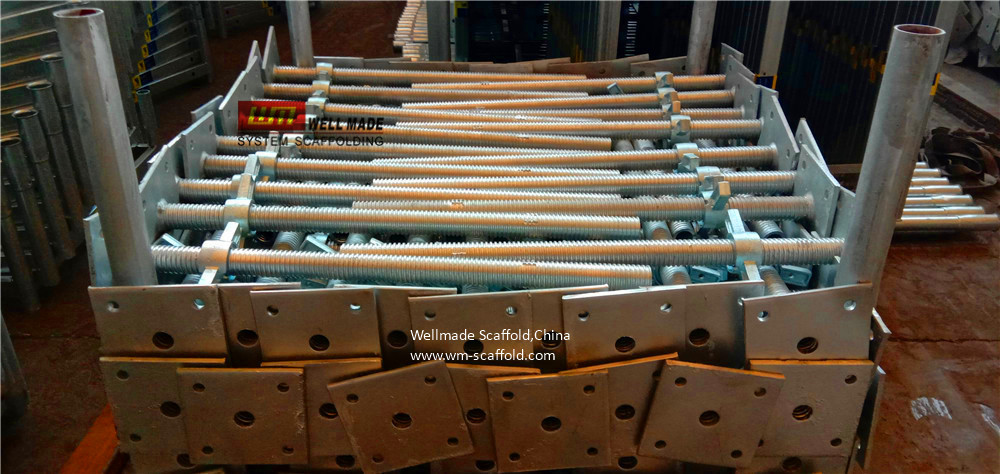 adjustable scaffolding jack base - screw base plate spindle - scaffolding level foot plate - adj base plate galvanized construction building scaffold materials from wellmade scaffold iso9001 and ce certificated china leading oem factory
https://1.bp.blogspot.com/-oY_vpxXuH0o/XRwmsgnWorI/AAAAAAAARMA/AoKyrU0QwQsB1qbEt6KAbBPNKsA7f4j9gCLcBGAs/s1600/Hot%2Bdip%2Bgalvanized%2Badjustable%2Bscaffoldnig%2Bjack%2Bbse%2B-%2Bscrew%2Bjack%2Bspindle%2B-construction%2Bscaffolding%2Bmaterial%2Bleveling%2Bbase%2Bplate%2B-sales%2Bat%2Bwm-scaffold.com%2Bwellmade%2Bscaffold%2Bchina%2Bfactoryf%2B.jpg
Adjustable screw jack base with base plate and jack nut handles hot dip galvanized for construction and formwork scaffolding foot leveling - layher scaffolding wellmade scaffold china leading oem scaffolding manfuactuer iso9001 ce certificated